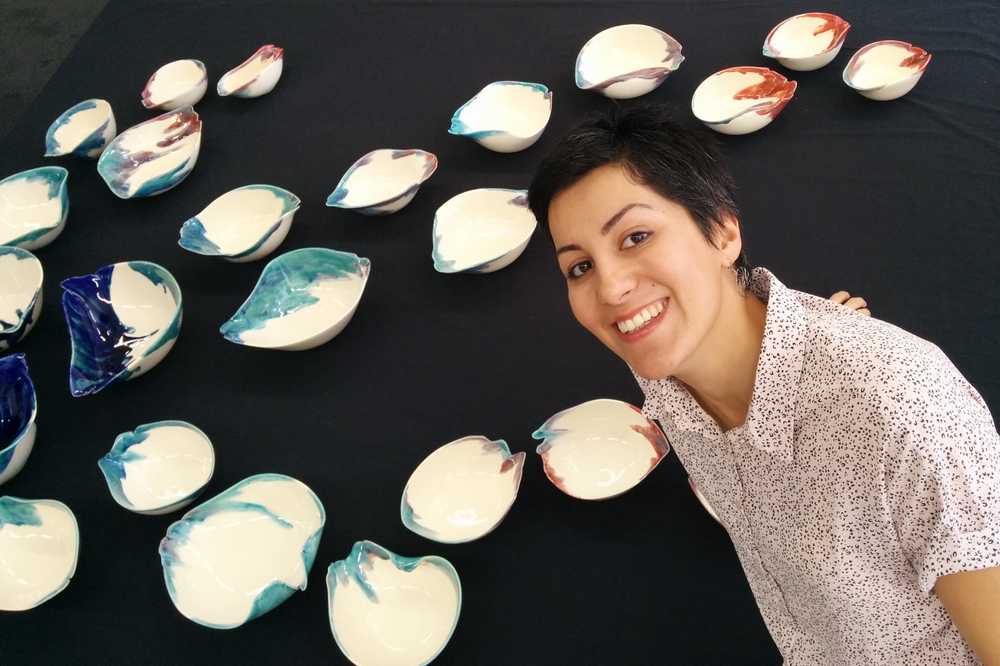 Elnaz Nourizadeh Born in Tehran, Iran, living and working in Melbourne, Australia since 2013.
Elnaz is an artist who works across various modes of sculpture, installation and performance alongside her rich experience on making domestic earthenware ceramics. Elnaz's work focuses on physical engagement with materials through the creation of abstract forms. This interest stemmed from her studies in industrial design, abstract art, minimalism and modernism. In Tehran, Elnaz studied under Maryam Salour, a leading Iranian sculptor, painter and ceramist. Her career continued after she immigrated to Australia. In 2018 Elnaz commenced a Master of Fine Art at RMIT University. During this time, she began to combine ceramics, sculpture and performance in distinctive installation art. She uses primary materials, such as clay, sand and paper in her large size works exploring pure abstraction, space and physicality.
Elnaz has been selected for the Iranian Ceramic Biennial and the Victorian Craft Award. She was awarded the 2016 Art Almanac Prize. Her ceramics have been profiled in The Design Files, Frankie Magazine and Venice Clay Artists.
Education
2018-20 Master of Fine Art, RMIT University, Melbourne
2011-13 Bachelor of Science in Industrial Design and drawing technology, SAPCO, Tehran, Iran
2011 Basic and intermediate course of Foot-operated and Electric Wheel thrown ceramics, Organization of Technical and Vocational Training, Tehran, Iran
2009-10 Advance Wheel Thrown ceramics, Mr. Mehri private studio, Tehran, Iran
2008 Specialising in Glaze Making Course, Mr Arabali Sherveh private studio, Tehran, Iran
2008 Principles of Glaze and Color in Artistic Ceramic, Sanat Ceram Company, Tehran, Iran
2004-06 Associate degree in Industrial Drawing, Kosha college of Applied-science, Tehran, Iran
2002-13 Pottery, Ceramic and Sculpting, Ms Maryam Salour private studio, Tehran, Iran
Awards
2016 The Art Almanac Prize 2016 Annual and Awards Group sculpture Exhibition for The Eye.
Selected Group Exhibitions
| | |
| --- | --- |
| 2020 | Am I Hearing an Echo? Assembly Point, Melbourne |
| 2019 | Bauhaus now! Buxton Contemporary, Melbourne |
|   | Dear Mud with love Ceramic Triennial, Australian Ceramic Triennial, Hobart |
|   | MIFGS 2019 Sculpture Exhibition, Association of Sculptors of Victoria, Melbourne |
| 2018 | Enthralled Ceramic Exhibition, Valley Potters, No Vacancy Gallery Melbourne |
|   | Melbourne Ceramic Exhibition, Boom Gallery, Geelong |
|   | MIFGS 2018 Sculpture Exhibition, Association of Sculptors of Victoria, Melbourne |
|   | Meander Sculpture Exhibition, Herring Island Summer Arts Festival, Melbourne |
|   | Annual and Award 2018 Sculpture Exhibition, Association of Sculptors of Victoria, Melbourne |
| 2017 | 16th Toorak Village Sculpture Exhibition, Toorak village, Melbourne |
|   | Victorian Craft Award Exhibition, Craft Victoria Gallery Melbourne |
|   | Meander Sculpture Exhibition, Herring Island Summer Art Festival, Melbourne |
|   | MIFGS 2017 Sculpture Exhibition, Association of Sculptors of Victoria, Melbourne |
| 2016 | Annual and Award 2016 Sculpture Exhibition, Association of Sculptors of Victoria, Melbourne |
| 2015 | Belonging Australian Ceramic Triennial, Australian National University, Canberra |
|   | Out of the blue Exhibition, Panoply Gallery Melbourne |
|   | Narrative Sculpture Exhibition, Herring Island Summer Arts Festival, Melbourne |
|   | 14th Toorak Village Sculpture Exhibition, Toorak village, Melbourne |
|   | MIFGS 2015 Sculpture Exhibition, Association of Sculptors of Victoria, Melbourne |
|   | A4 Art Exhibition, Herring Island Summer Art Festival, Contemporary Art Society, Melbourne |
| 2014 | 35 ON Ceramic Exhibition, Valley Potters, Wyreena Gallery Melbourne |
|   | Annual and Award 2014 Sculpture Exhibition, Association of Sculptors of Victoria, Melbourne |
|   | Stimulus of The New Ceramic Exhibition, Valley Potters, Kingston art Gallery Melbourne |
|   | A4 Art Exhibition, Herring Island Summer Art Festival, Contemporary Art Society, Melbourne |
| 2011 | Together Exhibition, Neel Art Gallery Tehran, Iran |
|   | The 10th National Biennial of Iranian Contemporary Ceramic, Semnan, Iran |
| 2006 | The 8th Contemporary Iranian Ceramic and Glass Biennial, Tehran, Iran |
Presentations
2019 My works in Social Media Association of Sculptors of Victoria at ladder art space gallery, Melbourne
2016 My Ceramic Sculpture and the techniques Association of Sculptors of Victoria, Melbourne
Professional Memberships
2014-Current Australian Ceramics Community
2013-Current Association of Sculptors of Victoria
2013-Current Craft Victoria Gallery
Articles